yummy, it's a f/f/m/m book….who wouldn't love that ;).
MyBookAddictionReviews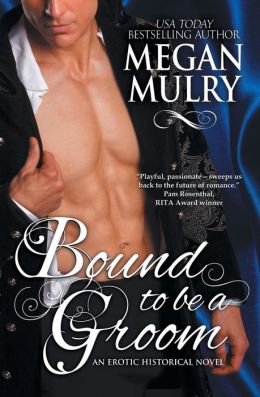 BOUND TO BE A GROOM
MEGAN MULRY
Publisher: Riptide Publishing
Published date: January 25, 2014
ISBN-10: 1626491135
ISBN-13: 978-1626491137
Genre: Erotica f/f/m/m
Source: Received for a honest review
Book Description (from amazon)
Sometimes our wildest dreams come true.
In the tumultuous summer of 1808, Spain and England are close to war and four young lovers are close to ecstasy.
To carve out an independent life with the woman she loves, ANNA knows she must leave her quiet Spanish convent to become a courtesan. To gain experience, she sets her sights on . . .
SEBASTIAN, whose powerful, aristocratic confidence suits Anna's mercenary goals. But his arrogance masks a craving for submission that Anna instinctively satisfies. Sebastian soon begs for her hand in marriage, even if it means sharing her with . . .
PIA, who trusts Anna completely—with her body and her future—until she learns of Anna's hasty marriage…
View original post 349 more words